I've always had trouble printing images at exactly the right size (12cm for CD tray inserts, 8.6cm for photo cubes, etc.), because all this time I've been looking in the wrong place.
OSX's print dialog (⌘P) in the Preview app has options to scale the image you're trying to print, but trying to tweak the percentage scale factor to get the printed size exactly right is a nightmare of trial and error. This is that wrong place I mentioned above.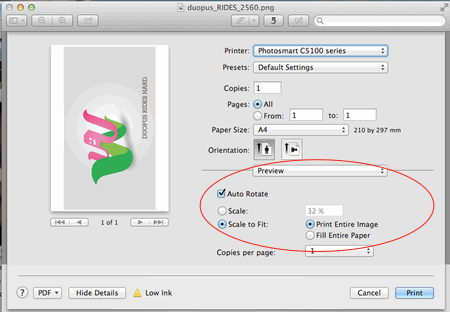 The right place is further upstream in the photo processing workflow. The print dialog looks at DPI information embedded in your image, and prints accordingly. If you want to print at exact size, you need to ensure that the DPI information gets added to your image when you resize and save it.
If you're using Acorn, it's the Image -> Resize Image... menu (⌥⌘I). In Pixelmator it's Image -> Image Size... (also with the ⌥⌘I key combo).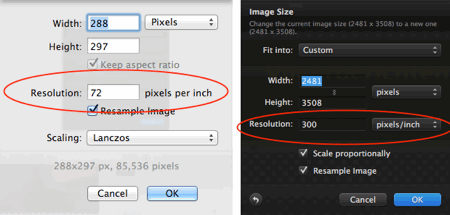 In both cases, set the resolution to the resolution at which you want to print: typically 300 pixels per inch or 118 pixels per cm for a 2013-era inkjet. Then change the width and height and unit of measurement to what you want to see on paper, e.g. 12 x 12cm, and click OK to confirm. Now when you print, it will be at exactly the dimensions you want. Easy.
Can't believe I've struggled with this since 2007.
In OAuth of Fealty, Ian Bogost takes a well-aimed swipe at Facebook's developer API.
"This is one of those areas in which it's actually possible to learn something from Microsoft circa the 1990s. How did Microsoft develop a massively adopted ecosystem of developer products for its home and enterprise operating systems? By creating an ecosystem of development tools, programs, and documentation that helped developers do their jobs, to accomplish their goals. Documentation that is complete and accurate. Examples with clarity and utility. Slow revs of subsystems and tools that take into account the fact that the rest of us cannot and should not have to think about a development platform as a full-time job, because we're trying to use that platform to produce results that exceed it."

[...]

"But there's another aspect of rapid, reckless change that few discuss: it helps create a sense of confusion and desperation that forces developers to devote more and more attention to the Facebook Platform. What better way to increase collective commitment to Facebook apps than to quietly extort incremental time out of its creators, time that might otherwise be committed to competing products or—gasp—to their own businesses or personal lives?"
I have recently come to the realization that I feel this way about large chunks of "front-end web development". I'm sick of the constant blog-fawning over 0.x frameworks, and the hipster pressure to adopt new tools and workflows that will be obsolete whenever the next ironically-named npm-based automation tool makes a splash with the in-crowd. Don't get me started on conferences.
This is a problem, because front-end web development is my professional bread and butter. But honestly, I feel like retreating to some back-end contracts for a couple of years to let this Cambrian explosion settle down a bit. I named my company "Aleona Product Development" very deliberately: I care about building products that will delight customers. Tools and technologies don't excite me.
Small room upstairs at Paradiso - my very favourite venue. The Joy Formidable were just...formidable. They could have filled a venue ten times that size with the sound they made. I hadn't noticed before just how insane many of their song outros are, and they thrashed them even further during the gig. Lovely AV/projection display going on in the background, too - a neon outline of a wolf's head at the heart of it. Some great photos from their Paris gig the previous night on Soul-kitchen.fr. Will definitely get tickets to see them again any time they're nearby.
Cholla
Austere
This Ladder is Ours
The Greatest Light is the Greatest Shade
Little Blimp
While the Fles
Cradle
Tendons
Silent Treatment
Maw Maw Song
I Don't Want to See You Like This
The Everchanging Spectrum of a Lie
Encore
Forest Serenade
Wolf's Law
Whirring